Windows 7 and Server 2008 End Of Life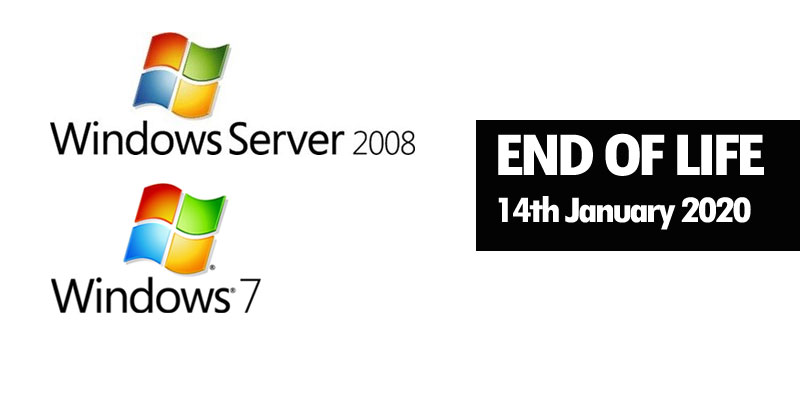 Microsoft Windows 7, Windows Server 2008 and 2008 R2 End Of Life is happening on 14th January 2020. This means you will stop receiving security and feature updates and no longer be compliant with ISO standards.
The Microsoft products entering the end of support in 20201 include
Dynamics NAV 2009 R2
Expression Blend 3
Expression Design 3
Expression Encoder 3
Microsoft Expression Studio 3
Expression Web 3
Hyper-V Server 2008
Hyper-V Server 2008 R2
Windows 7
Windows Embedded Handheld 6.5
Windows Server 2008 R2
Windows Server 2008
Windows Server Update Services 3.0
Windows Storage Server 2008 (all editions)
For most people Windows 7 has the largest effect. It has been around since July 2009 and is, according to recent reports from Netmarketshare2, still being used by 36% of all PCs. Although stable and and a great business tool there are a number of benefits from upgrading to Windows 10.
Security
The number 1 reason to upgrade is from a security perspective. Any new flaws found in Windows 7 will not be patched by Microsoft. This means that Windows 7 will become a greater target for Malware and Viruses as criminals look for easy targets.
Safer Browsing
Windows 7 default browser was Internet Explorer which has been replaced with Edge. It offers a better browsing experience and a more productive interface.
Better hardware support
Windows 10 provides better built-in support for newer types of hardware including USB 3.0, Bluetooth, Secure boot capabilities with UEFI, USB 3.0, high-definition screens (ie better scaling), and NVMe solid state drives (SSD). If you are still running Windows 7 it might also be time to update your hardware to take advantage of faster boot and operating speeds with SSDs and faster transfer speeds with USB 3.0. It is generally agreed that 5 years is the lifespan of a PC3
Talk to us today about upgrading your PC and servers or managing your IT systems and hardware. With two decades of experience of working with small businesses we can provide reliable and robust IT solutions at a price you can afford.
1 https://support.microsoft.com/en-gb/help/4470235/products-reaching-end-of-support-for-2020
2 https://netmarketshare.com/operating-system-market-share.aspx
3 https://www.statista.com/statistics/267465/average-desktop-pc-lifespan/